Home >
Build Your Corporate Campus on the Lake Geneva Business Commons
Build Your Corporate Campus on the Lake Geneva Business Commons

The Lake Geneva Economic Development Corporation (LGEDC) recently purchased a very large plot of land, with even greater potential. For a company looking to build a new corporate campus, the 105-acre business commons, located just south of Highway 120 in Lake Geneva, Wisconsin, is an attractive area to put down roots.
The enormous lot is currently available and ready for development, offering an incredible opportunity for large and small businesses, in a variety of fields and industries.
Consider Lake Geneva for Your Campus Setting
Located just 10 miles north of the Illinois/Wisconsin state line, and 45 miles south of Milwaukee, Lake Geneva is a beautiful and thriving resort area. With a rich history, booming tourist economy, and permanent population of approximately 8,000 people, this city is primed for continued economic growth.
The area is highly suitable for a large corporate campus for any number of industries – from manufacturing, industrial, and medical to financial or new technology. The multi-functional development land of Lake Geneva's Business Commons is capable of hosting it all, offering unlimited potential for your next campus construction.
The choice of a popular resort city also presents many advantages for businesses looking to hold conferences, corporate retreats, or business lunches. The robust dining and luxury stay options of Lake Geneva will more than impress.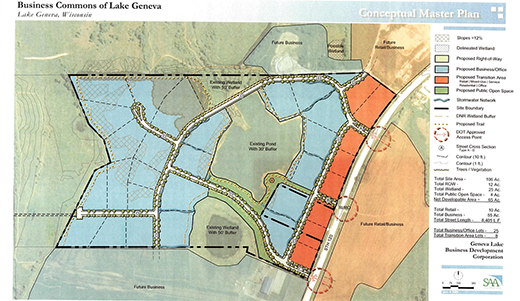 Build Your Campus on High Ground with a Private Pond
The Lake Geneva Business Commons is as beautiful as it is versatile. This aesthetically pleasing land has a natural elegance that is difficult to replicate with approximately 25-acres of authentic Wisconsin wetland on the property.
For a large campus setting, it's incredibly advantageous for companies to foster a positive public image by showing they value our state's natural resources. Construct your headquarters atop high ground, and take in the views of a serene, private pond that is also on location.
It's a smart move operationally, as well. Recent research from the University of Oregon states that employees on natural-facing sides of the workplace take 19% fewer sick days, on average, leading to a profitable boost in productivity.
Take Advantage of the Great Location on the Edge of Town
The excellent exposure you'll gain from a location such as this makes the Lake Geneva Business Commons a logical choice for your future campus build. Just south of town, your new, corporate campus will garner significant exposure from potential clients and employees.
The lot has 2,000 feet of frontage along Highway 120, offering no shortage of attention from potential investors or partners you may find in area residents or visiting Chicagoans. The potential for this highly visible location has very few limits.
Are You Interested in Learning More?
Feel free to reach out and request more information from LGEDC. For additional development specifications or more detail on the exciting attributes of the Lake Geneva Business Commons, please click here for a printable lot listing.
Looking to have a few questions answered in person? Please contact LGEDC Executive Director, Andy Dammeir, for more information.