Traver Property Renovation Continues Downtown Lake Geneva's Revitalization
You may have heard that the Lake Geneva Economic Development Corporation (LGEDC) purchased the former Traver Hotel site in early 2016. You may have even caught wind that the building has since been razed, the lot has been professionally surveyed and zoned central business, and is available for purchase.
But a narrative that has largely flown under the radar is that of the property behind the former Traver Hotel, which was also purchased by LGEDC as a conjoining lot.
On this property sat an aging house with signs of its prolonged life and several years of neglect beginning to show. Although centrally located in Lake Geneva's vibrant downtown, the building was far from being viewed as a prize.
However, as fate would have it, this former residence at 728 Wisconsin Street was quickly acquired by local Allstate Insurance Agent, Ken Shields, who saw real potential in the old home.
Shields's creative vision fueled his focus to launch a full-fledged remodel of the residence, including all new windows, doors, and more. His intention was to move his reputable insurance practice's operations to the renovated building.
The revelation of Shields for the property gradually transformed into reality, and in July 2017, the inspiring renovation project was completed. His agency was able to move in, and the hometown insurance practice officially has the feel of…well…a home!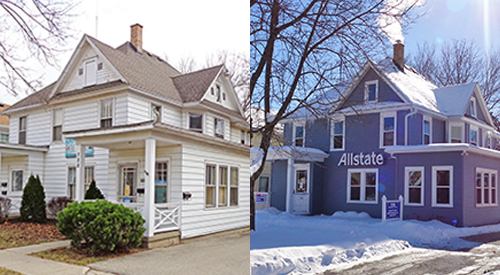 This remodel is a unique example of a much larger picture. Lake Geneva's downtown revival has been underway for the past few years, and we're very excited for our city's continued growth and economic development.
Want to view this striking renovation project first-hand? Head over to the Ken Shields Allstate Insurance headquarters at 728 Wisconsin Street in Lake Geneva, Wisconsin, or give Ken a call at (262) 248-0861 today!
For additional lot listings and/or commercial properties in the Lake Geneva area, take a look at LGEDC's available land and buildings.